Regular price
Sale price
$139.99
Unit price
per
Sale
Sold out
iSonic® Miniaturized Commercial Ultrasonic Cleaner DS310C-WS, white and sapphire blue colors, for makeup brushes, jewelry, eyeglasses, 110V, 50-55W
The world's smallest commercial ultrasonic cleaner with an ultrasonic stack transducer. It's a Swiss watch of a commercial ultrasonic cleaner
Powerful 55W transducer produces 68W/L power intensity, much higher than average ultrasonic cleaners. Cleans much quicker than normal ultrasonic cleaners
This version comes with a makeup brush holder.
For jewelry applications: use integrated beaker holder with a stainless steel beaker (DS310-BR or DS310-WS). Beaker makes changing water much easier. Larger jewelry can be cleaned inside the main cleaning tank if needed.
For eye wear applications, it's easier to use a flat lid (DS310B-BR or DS310B-WS).
Elongated tank, tank capacity 0.L/0.85Qt, tank size 18.0x8.7x5.8cm / 7.1"x3.4"x2.3"
Touch sensing solid control panel without any buttons for better water proof and reliability
Digital timer with 2-color LED display, power switch, detachable power cord, cooling fan
Suitable for makeup brushes, jewelry, eye wear
Accessories included: plastic basket, makeup brush holder
Optional accessories: integrated stainless steel beaker with a jewelry hanger attached to a lid (see DS310-BR or DS310-WS), flat lid (see DS310B-BR or DS310B-WS)
Sample cleaning solution included: iSonic Jewelry/Eye Wear Cleaning Solution Concentrate #CSGJ01
Recommended applications: makeup brushes, beauty blenders, jewelry, eyeglasses, sunglasses, air brushes, fountain pens, etc.
Share
View full details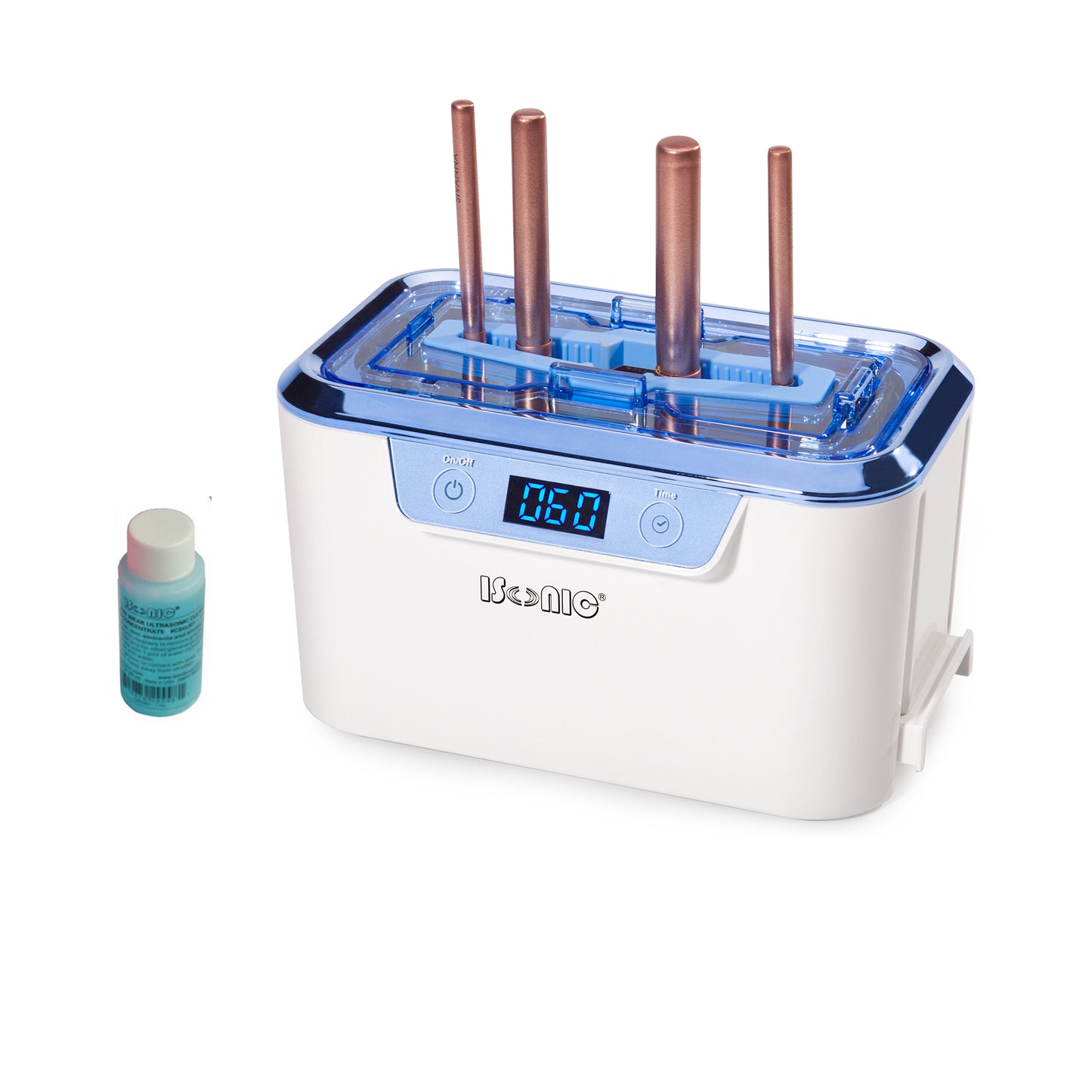 Specifications
| | | |
| --- | --- | --- |
| Tank Cap. | 800 ml | 0.85 qt |
| Tank Size | 18 x 8.7 x 5.8cm | 7.1" x 3.4" x 2.3" |
| Max. Level | 650 ml | 0.68 qt |
| Freq. | 40,000 Hz | 40,000 Hz |
| Voltage | 220~240 V | 100~120 V |
| Power | 55 W | 55 W |
| Unit Size | 22.0 x 13.8 x 14.1cm | 8.7" x 5.4" x 5.6" |
FREE Shipping on orders over $150

Hassle-Free Exchanges

All products except consumables and breakable items have one year warranty for parts and labor. Customers who are within the lower 48 states pay one-way shipping, two-way if outside. Register warranty with the model number and the serial number to warranty@isonicinc.com.