Regular price
Sale price
$139.99
Unit price
per
Sale
Sold out
iSonic® Miniaturized Commercial Ultrasonic Cleaner DS310C-BR with a makeup brush holder, black and rose gold colors, for jewelry, eyeglasses, makeup brushes, 110V, 50-55W
The world's smallest commercial ultrasonic cleaner with an ultrasonic stack transducer. It's a Swiss watch of a commercial ultrasonic cleaner
Powerful 55W transducer produces 68W/L power intensity, much higher than average ultrasonic cleaners. Cleans much quicker than normal ultrasonic cleaners
For jewelry applications: use integrated beaker holder with a stainless steel beaker. Beaker makes changing water much easier. Larger jewelry can be cleaned inside the main cleaning tank if needed
Elongated tank, tank capacity 0.L/0.85Qt, tank size 18.0x8.7x5.8cm / 7.1"x3.4"x2.3"
Touch sensing solid control panel without any buttons for better water proof and reliability
Digital timer with 2-color LED display, power switch, detachable power cord, cooling fan
Suitable for jewelry stores and for other professional applications
Accessories included: plastic basket, makeup brush holder
Optional accessories: stainless steel beaker, jewelry hanger attached to the beaker cover, round retainer for the beaker to prevent scratching of jewelry (see DS310),  flat lid (for optical applications, see DS310B)
Sample cleaning solution included: 1OZ iSonic Jewelry/Eye Wear Cleaning Solution Concentrate #CSGJ01
Recommended applications: makeup brushes, beauty blenders, jewelry, eyeglasses, sunglasses, air brushes, fountain pens, etc.
Share
View full details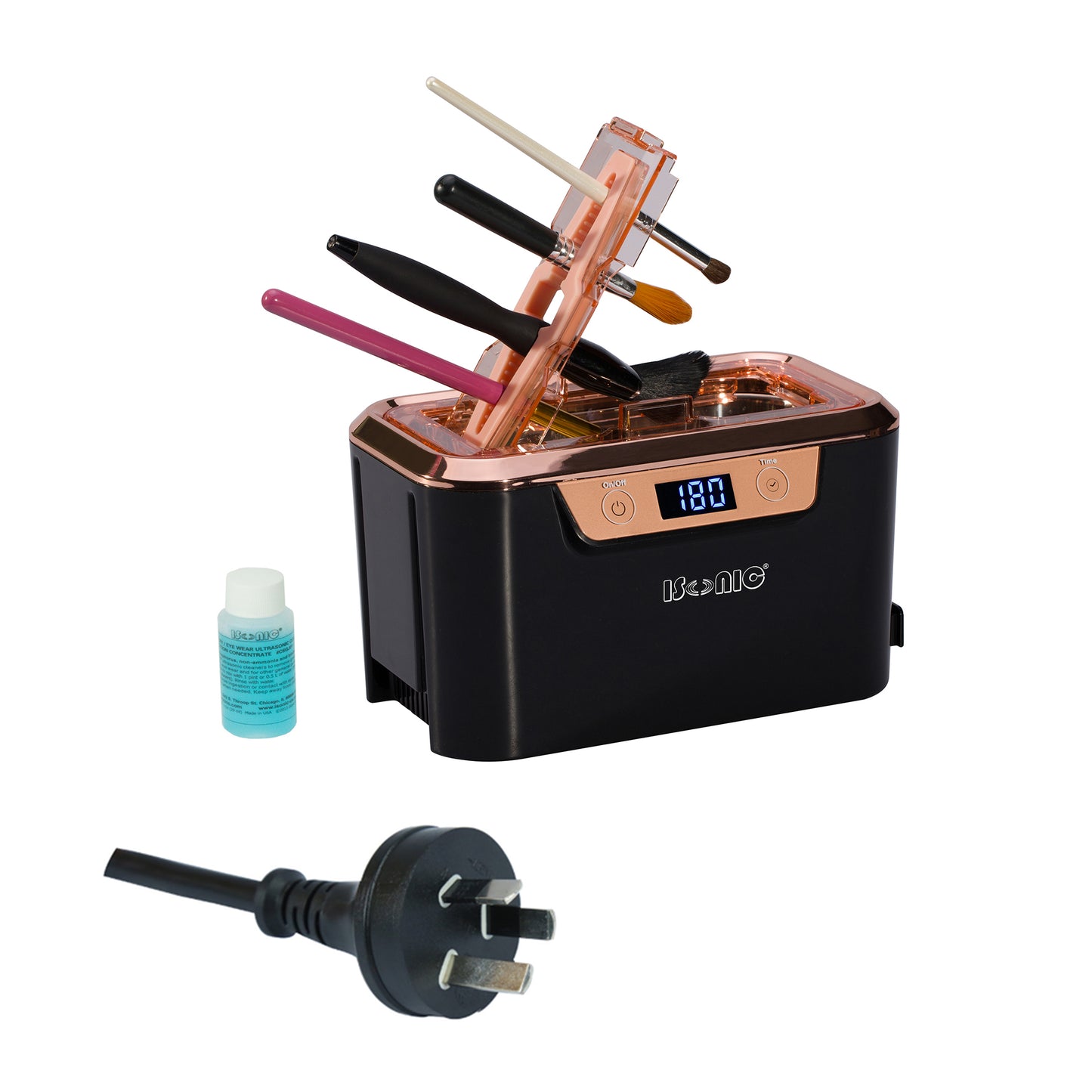 Specifications
| | | |
| --- | --- | --- |
| Tank Cap. | 800 ml | 0.85 qt |
| Tank Size | 18 x 8.7 x 5.8cm | 7.1" x 3.4" x 2.3" |
| Max. Level | 650 ml | 0.68 qt |
| Freq. | 40,000 Hz | 40,000 Hz |
| Voltage | 220~240 V | 100~120 V |
| Power | 55 W | 55 W |
| Unit Size | 22.0 x 13.8 x 14.1cm | 8.7" x 5.4" x 5.6" |
FREE Shipping on orders over $150

Hassle-Free Exchanges

All products except consumables and breakable items have one year warranty for parts and labor. Customers who are within the lower 48 states pay one-way shipping, two-way if outside. Register warranty with the model number and the serial number to warranty@isonicinc.com.